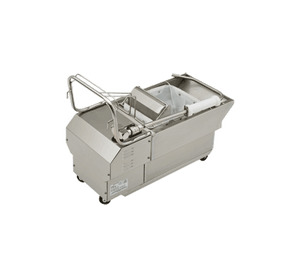 Blue Seal Evolution Series - Filtamax Fryer Filters
More Power to Fry with HPO. When the job calls for high volume, constant production of fried food, Blue Seal Evolution Series High Power Output (HPO) fryers lift performance to another level again.
Increased production (up to 50kg/ hr) and superior recovery times are made possible through a blower system that pushes greater volumes 
of air and Natural Gas through specially designed ceramic fibre burners. More heat is absorbed by the oil, resulting in lower flue exhaust temperatures and lower production costs per kilo.
Filtamax is the ideal companion for Blue Seal Evolution Series Fryers because it enhances flavours by removing particles from the oil that would otherwise burn and taint the food.
Filtamax works with premium vegetable oils and shortenings, extending the life of your oil and reducing the costs of replacement. It's easy to use – taking just 10 minutes to drain, filter and refill a 26-litre tank. When not in use, it tucks away neatly under your fryer.
Standard Features.

Robust, powerful pump
Reverse motor action for total system flush out
Heavy-duty, insulated locking handle means no spillages
Easy clean, reusable filter bags (up to 500 applications)